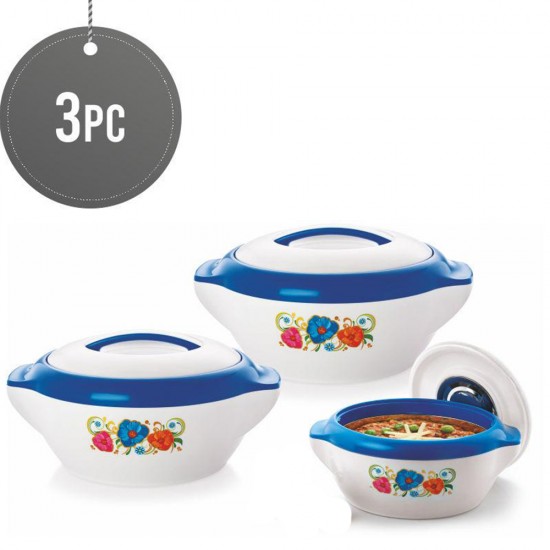 Out Of Stock
3Pcs Large Hot Pot Pan Food Warmer Set -Blue Sterling Ventures ST80335
3Pcs Hot Pot Food Warmer Set Insulated Thermal Container Casserole Serving Dish
Product description

The Rolex Jumbo Platina Hot Pot food containers are made for preserving the temperature of hot or cold foods.

The thick double wall insulation ensures the food inside maintains it's temperature over a period of time allowing you to eat warm meals without having to reheat your food and therefore preserving healthy nutrients and tastes. It has a stainless steel inner casing to conduct heat.
Ideal for preparing meals in the morning and taking them to the office, or serving pre-prepared meals directly on the table or for storing excess foods away. Comes with a screw on lid to help reduce heat lost.
Thick Double wall insulation and stainless steel fixed inner casing keeps food hot and fresh for 4-6 hours No need to re-heat food so retains essential nutrients, taste and aroma Twist locking lid with a stylish grip handle for secure fastening and easy handling
Set of 3 Pots. Sizes 4L,6L,8L
DEFAULT
Colour
Blue
Size
Large
Stock:

Out Of Stock

Model:

ST80335

Weight:

3.86kg

Dimensions:

33.00cm x 36.00cm x 42.00cm

SKU:

ST80335