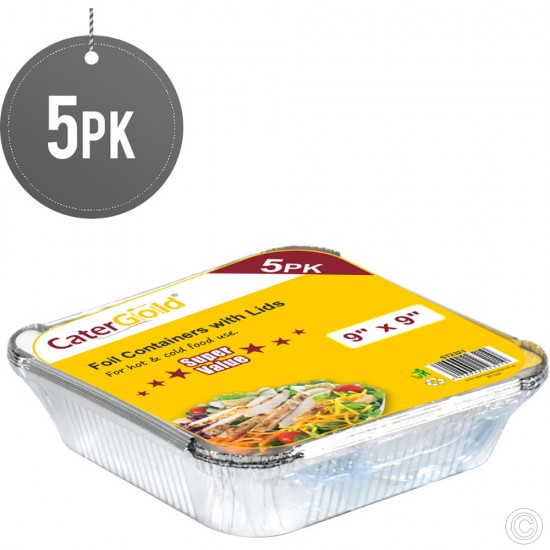 Out Of Stock
9 inch Aluminium Foil Container No 9 Takeaway Square Container Disposable with Lids Pack of 5 for Food Storage Silver
Disposable Aluminium Square Foil Containers for Food Storage
You're looking for a disposable food container that will help you save time and money? Look no further! Our disposable foil food containers are available in a variety of colours and sizes, and have the perfect shape to hold both main dishes and side dishes.
Our disposable aluminium food containers are perfect for your lunchtime workday. Keep your meal fresh with an airtight seal, and enjoy the convenience of a one-time use container.
Our Aluminium Food Containers are made of 100% food-grade, recyclable, and reusable aluminium. They are designed for keeping your food fresh for a longer period of time. The leak-proof seal and tight-fitting lid ensure that your food is not exposed to any unnecessary air or gases. These containers are ideal for many food applications such as storing, transporting, and serving foods.
Reduce your food waste and save money with our disposable foil food containers! Say goodbye to plastic wrap and parchment, or sponges for cleaning up. Our biodegradable, waterproof containers are perfect for storing your leftovers and taking them on the go.
Freezer safe, Microwave safe, Hot or cold use, Good for reheating food, Perfect for any occasion, Great for small batch kitchen, Good new condition foil pans with lids
Shatter-Proof, Microwave-Safe, and Dishwasher-Safe
Light Weight, Foldable, and Effective
DEFAULT
Colour
Silver
Filter
Disposable Foil Food Storage Containers
Material
Aluminium Foil
Pack Size
5PK
Shape
Square
Size
9" x 9" (inches)
Item Type
Catering Disposable (Hot & Cold Food Use )
Stock:

Out Of Stock

Model:

ST2321

SKU:

ST2321

CaterGold